Besides making some New Years resolutions (especially to lose all the weight you gained throughout the holidays), the beginning of January is a great time to plan your trips for the next year. In order to make choosing both the best place and the time of the year to visit it, I made this list that will help you decide on where to travel in 2020 with month by month recommendations.
Where to travel in 2020
While creating this guide about where to travel in 2020, I tried to do a mix of regions, the whole countries and the cities. I also wanted to combine some popular cities like Barcelona or Paris, with some lesser visited places. I tried to choose the best possible time to visit these destinations, as well. For example, the most popular places during the low-season, some colder north European cities during the summer months and other while some special events or festivities are happening.
January: Paris, France
Paris is beautiful at any time of the year! I have visited it in all seasons, and it's hard to decide is it more beautiful when the flowers in its parks are in full bloom or when it's glowing with all the beautiful Christmas lights. However, one constant thing in Paris is that it's busy. But, here is my little hack: visit it in January! You'll have museums in Paris all for yourself, group tours will be smaller, and you could slowly wander its streets without being overrun by large groups of tourists.
*Top place to visit: Orangerie Museum
⤷ Check out my First Time in Paris Guide on a link here
February: Barcelona, Spain
Barcelona is one of the most beautiful European cities. However, the experience of visiting it could be ruined by the over-tourism it's suffering from. Does it mean you shouldn't visit it at all? Of course, not! Visit it during the low season! It's better for the local people living there, for the city's infrastructure and you're definitely going to have a much better experience. Weather in Barcelona during February is probably going to be nicer than in the north of Europe. And you could enjoy eating some tapas, churros, and learning more about some of the famous artists who lived and worked there at a slower pace.
*Top place to visit: Park Guell
⤷ Read my Travel diary: Three days in Barcelona here
March: Arles, France
Located in a beautiful region of Provence, the city of Arles is a place I've discovered this year and absolutely fallen in love with. You can reach it in only three hours with a fast TGV train from Paris. It used to be an important Roman town, and you can find many Roman ruins (including the still-standing amphitheatre) and Medieval buildings all around it. It has a lovely combination of French architecture and Mediterranean influences in the colours of the facades and the narrow streets. It's also a place where some famous artists like Vincent van Gogh, Pablo Picasso or Paul Gauguin spent some time, as well. March is a great time to visit it because it won't be too hot. But, you'll have a chance to see some of the famous Provencal flowers start blooming.
*Top place to visit: Arles Amphitheatre
⤷ Read my Guide to Arles and places linked to the life of Vincent van Gogh here
April: Grand Duchy of Luxembourg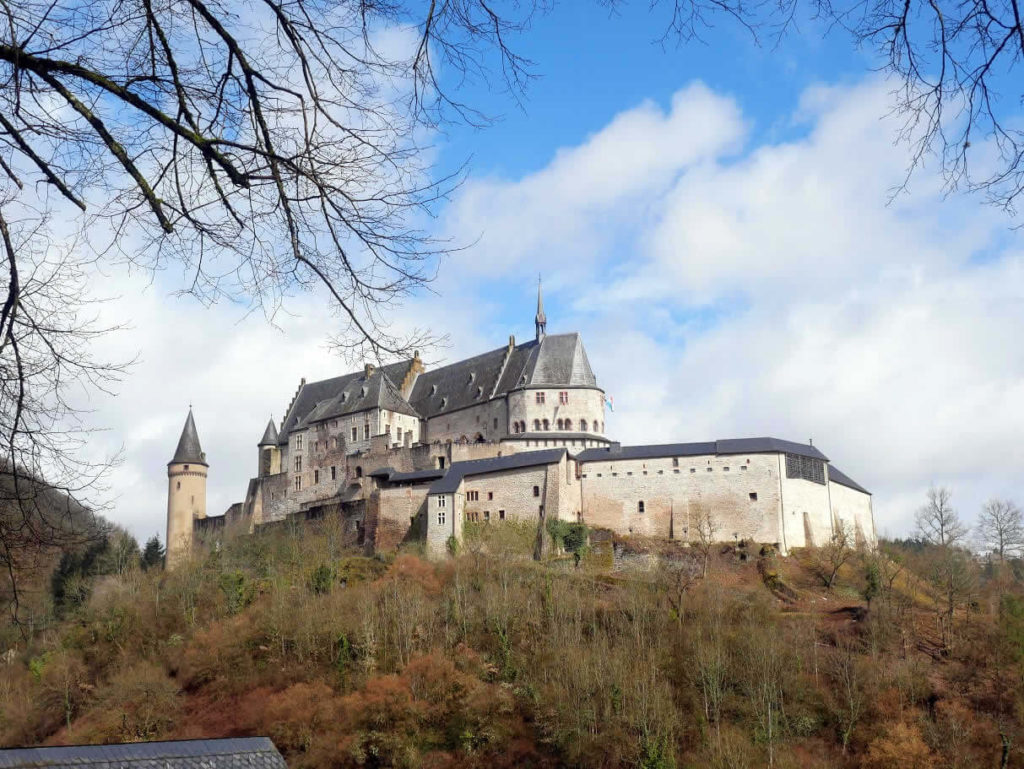 Although having the word 'grand' in its official name, Grand Duchy of Luxembourg is one of the smallest countries in Europe. And you can explore it quite well within a few days. Being surrounded by France, Germany and Belgium, it was under a cultural influence of these countries throughout history, and you can still feel that on every step while in Luxembourg. I have visited it during Easter a couple of years ago. And because of some interesting traditions linked with that holiday, April is excellent time to visit Luxembourg. It's already warmer, and the snow is gone, so you can spend more time in nature, or by exploring some of its numerous castles.
*Top place to visit: Vianden Castle
⤷ Read my Travel Guide to Luxembourg here
May: Dubrovnik, Croatia
Another place that's suffering badly from the over-tourism in Europe is Dubrovnik. And I wouldn't suggest anyone to visit it between June and September. However, it isn't called The Pearl of Adriatic without reason. And it's, without a doubt, one of the most beautiful towns in Europe. So, the same as I've suggested with Barcelona, visit Dubrovnik in the shoulder-season. I was there last year in May, and the old city wasn't crowded at all. But, we had some gorgeous weather, and it was warm enough to swim in the outside swimming pool of our hotel. Having such an interesting history, beautiful Medieval old town and some great cuisine, definitely plan to visit Dubrovnik if you're still wondering where to travel in 2020.
*Top place to visit: Old city walls of Dubrovnik
⤷ Check out my weekend travel guide to Dubrovnik here
June: Flanders, Belgium
The region of Flanders in Belgium is probably one of my favourite parts of Europe. And although I'm visiting it at all times of the year, June could definitely be a great time to travel there. Weather is going to be good, it is when many festivals are happening and when you can enjoy in some of its beautiful nature, as well. Flanders has something for everyone, form great beers (probably each village has its own local beer), delicious chocolates, to some amazing architecture and fantastic art. You can visit only one town, or do a little tour starting from Brussels, and go to Leuven, Antwerp, Mechelen, Bruges, Ghent or Ypres then. There is so much to do and see in Flanders, you could actually spend the whole month of June there.
*Top place to visit: Mechelen is gorgeous, but still a bit of a hidden gem
Click on the names of the cities above to read more about them
July: Rotterdam, the Netherlands
Although there are so many beautiful Dutch cities you should visit, Rotterdam is definitely one of my favourites. The second biggest town in the Netherlands is home to some great street art, fantastic modern architecture and a lovely foodie scene. It's quite a special place to visit in 2020 because it's going to host the Eurovision Song Contest in May. However, I wouldn't recommend you to visit then (except, of course, you're a bit Eurovision fan) because it will be busy and more expensive. Instead, come and visit it during the Summer, so you can enjoy in some of the outdoor activities, go on a boat tour and just enjoy in a great vibe Rotterdam has.
*Top place to visit: The Cube Houses & SS Rotterdam
⤷ For more info check out my Rotterdam Travel Guide here
August: Hamburg, Germany
Perhaps you've noticed until now how I'm recommending you to visit the places in northern Europe during the Summer. Well, it's one of my top tips if you're still not sure where to travel in 2020. Summers are a bit milder than at the south, and usually, there are so many great outdoorsy things to do there. Hamburg is a town with a great vibe, beautiful architecture that spans from the former industrial buildings to some masterpieces of modern architecture. And you'll find many awesome museums and musical performances in Hamburg, as well.
*Top place to visit: International Maritime Museum
⤷ Read more about the things to do during the weekend in Hamburg
September: Lake Como, Italy
If a combination of high mountains, a beautiful large lake and Italian food sound like a great mix to you, then be sure to put Lake Como on your list of where to travel in 2020. Located at the very north of Italy, just at the border with Switzerland, it's one of the largest lakes in Europe. And home to so many beautiful, charming towns. September could be a great time to visit it because it's still going to be quite warm, so you could spend the whole days by exploring the lake.
*Top place to visit: Small town of Varenna
⤷ Read more about how to spend three days at Lake Como
October: Saint Petersburg, Russia
Saint Petersburg is one of the rare cities we know the exact date it was established on. It was founded by Tsar Peter the Great on May 27th 1703. Saint Pete, Venice of the North or just Pete, there are so many names by which Russian cultural capital is known by. Filled with beautiful baroque and classical buildings, it is also a city of art and culture. And the city where you can feel the history in every single corner. Although in October days are already shorter, it still won't be too cold to wander around this beautiful city. So, it could be great to explore the city during the day and visit some of its fantastic ballet performances in the evenings.
*Top place to visit: Hermitage Museum
⤷ Read my Saint Petersburg Travel Guide here
November: Rome, Italy
When the days get shorter and colder, it's a good idea to visit some of the southern European countries again. Big and popular cities won't be as crowded as in Summer. So, putting Rome to your list of where to travel in 2020 could be a great thing to do. You'll still find plenty of sunshine in the Italian capital in November. Famous for its impressive Roman ruins, such as Colosseum or Roman Forum, are just some of the cities to do while there. If you have a rainy day, you can always spend it at some of the beautiful museums in Rome.
*Top place to visit: Vatican Museum
⤷ Read my Travel Diary: Four days in Rome on a link here
December: Zagreb, Croatia
Home to one of the best Christmas markets in Europe, and one of my personal favourites, you should definitely put Croatian capital on a list of the places to visit in 2020. The whole of Zagreb's city centre is becoming a huge Christmas market during December. You'll find local artists selling their work there, and many small restaurants offering some local specialities like fritule or strudla, and some mulled wine. There is a chance for snow in December on a nearby Medvednica mountain. So, you can spend a day skiing or just enjoying in some winter activities there.
*Top place to visit: Take a ride in one of the shortest funiculars in Europe while in Zagreb
⤷ Read my Zagreb like a local Guide here
There are so many great places to visit in Europe, you could definitely make a trip to a different destination each month. If you're struggling with where to travel in 2020, I hope this guide with a month to month recommendations will be of great help!
*This post contains some affiliate links.